Advanced Features
to Help Your Plants Grow
A Kitchen Garden You'll Love All Year (2020)!
We are a homegrown company with a great big passion for helping indoor growers succeed.
We've taken years and tremendous care to build a different kind of grow light. Our lights are scientifically sophisticated and at the same time elegantly simple and versatile.
But, we're about more than just building the best LED grow lights.  We're about building relationships. We're about people. We strive to partner with the growers who use our lights. We take enormous pride in the relationships we've built with our customers and the success we've helped them achieve. We're about sharing our expertise and being accessible with personal service that is just a phone call or click away.
We're LED grow lights that go beyond.
Why You Will Love Our Lights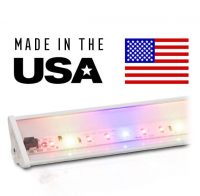 Getting the right spectrum recipe is both art and science.  We've perfected the ratios of the essential wavelengths, which means your plants will be happy at any stage of growth.  Yes, it's possible for one light to carry the load of seed starting and full vegetative and flowering growth.

Advancements in the horticultural LED market are ever-changing. Procyon© Series lights meet the most current standards for optimal use of wavelengths coupled with optimal efficiency.

The very best engineering means the light will be very simple to use and will outlast many lights that are currently in the market. If you have been disappointed by other LED grow lights, we urge you to try ours.  

The sleek and lightweight design creates a flexible light  that can be used in a variety of situations, from top-canopy to intra-canopy, to non-traditional growing set-ups.
Procyon© Series
Grow Lights
Procyon LED grow lights are powerful, versatile and with minimal power use, Procyon lights offer our customers a superior blend of performance and reliability. Use the Procyon light for all stages of plant growth.
Easy-to-Use and is USA-designed and manufactured.
Three lengths:  33″, 17″ and 4″. 
Features:
80°

Beam Angle
Commercial and Home Grow Use

Low Power Use/Saves Money

5-Year Warranty

Vegetative and Flowering Growth 

 Silent Operation, Minimal heat
ProcyonPro meets the demands of customers looking for optimum PAR and precise wavelength delivery. We heard our customers and went to work, also incorporating the most current university research.
Easy-to-use and is USA-designed and manufactured.
Two lengths:  33″ and 17″
Features:
120° Beam Angle
Commercial and Home Grow Use
Low Power Use/Saves Money
5 Year Warranty
Vegetative and Flowering Growth

Silent Operation, Minimal Heat
What People Say About Happy Leaf
"We are saving a lot on electricity with these super energy efficient lights…hopefully as we grow, we can continue to source these really incredible lights."
ADAM POLLACK, CLOSED LOOP FARMS, CHICAGO
Latest News from Our Blog
An Indoor Kitchen Garden Makes a World of Difference We love our outdoor garden but in Northern Illinois, we only get to enjoy the harvest …